T-SQL Tuesday #104: Code I would hate to live without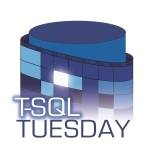 This month's T-SQL Tuesday is hosted by Bert Wagner [t | b]. This month's topic is 'What code would you hate to live without?'
My entry is a tiny bit of a recycle from a previous post, but, since no one reads my blog anyway I don't expect much protest. :) In my current role, I have been writing a lot of SQL, particularly ETL-type code where data lands in a staging table then needs to be inserted or updated ala 'upserted' into the final destination. I've been using the T-SQL MERGE statement, which is one of the more verbose commands, especially when a lot of columns are involved. Being lazy efficient-minded, I decided to write a little tool to generate a full MERGE command by passing in a table name and column names. My scripting tool of choice lately is PowerShell. So, I decided to make a tool in PowerShell and post it on GitHub.
The result of my efforts is a function called Get-SqlMergeStatement. The repo is found at https://github.com/lanceengland/SqlHelpers.
An example of how to use the function:
Get-SqlMergeStatement -TargetTableName Tbl -JoinColumns a -MergeColumns a,b,c

Which produces the following output:
WITH SRC AS
(
    /* your source query here */
)
MERGE INTO Tbl WITH (HOLDLOCK) AS TGT
    USING SRC ON (SRC.a = TGT.a)

WHEN NOT MATCHED BY TARGET THEN
    INSERT (
        a,
        b,
        c
    )
    VALUES (
        SRC.a,
        SRC.b,
        SRC.c
    )

WHEN MATCHED AND EXISTS (
    SELECT SRC.b, SRC.c
    EXCEPT
    SELECT TGT.b, TGT.c
    )
THEN
    UPDATE SET
    b = SRC.b,
    c = SRC.c

;

The code is a plain PS1 file. At some point I might try to add a PIVOT and UNPIVOT function, as the syntax for those functions always bends my brain a bit. The entire function is a template string, with embedded snippets that iterate over the same string array and apply different transformations through the pipeline.
Anyway, I'm sure I could live without this code, but it would just take a lot longer to write MERGE statements. If this looks like something you can benefit from, great! Feel free to use, comment, or contribute. Thanks Bert for hosting!
10 Jul 2018
Permalink
data
automation