Sharpen the Saw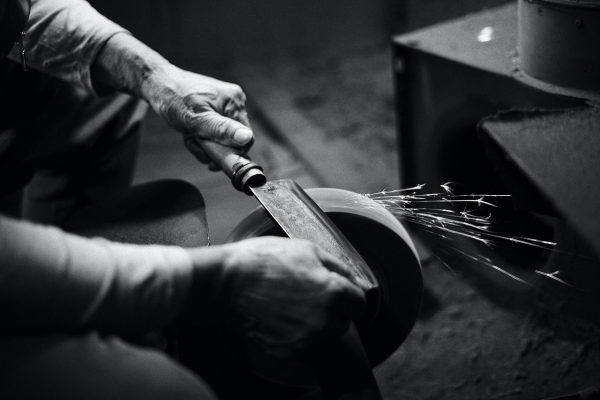 I am a big proponent of The 7 Habits of Highly Effective People, particularly Habit 7: Sharpen the Saw. At the risk of sounding slightly self-promoting, I wanted to share my focus this past year, and current goals for the next few months.
The Certification Gauntlet
Some time ago my interest was piqued by the DevOps methodology, where development and operations become more integrated to increase the delivery of value to the business. My work experience through Improving has given me an opportunity to serve in different roles on multiple projects, from architecting and developing, to deployment and tier-2 operations support. I have seen first-hand the challenges to both initial deployments and subsequent deployments for bug fixes and enhancements. DevOps sounded like a creative solution for addressing these challenges.
AZ-400
I signed up for a DevOps boot camp and started working through the material with the goal of passing the Exam AZ-400: Designing and Implementing Microsoft DevOps Solutions exam and obtaining the Microsoft Certified: DevOps Engineer Expert certification. It didn't take long for me to realize I jumped straight into the deep end and I needed to take a few steps back and focus on some foundational knowledge first. I also discovered the certification has a prerequisite exam that I had missed.
The AZ-400 exam has a choice of two prerequisites exams: either Exam AZ-104: Microsoft Azure Administrator, or Exam AZ-204: Developing Solutions for Microsoft Azure. I felt I had more gaps on the administration path, and decided to pursue the AZ-104.
AZ-104
I put the AZ-400 on pause, and poured into the AZ-104 material, using both the Microsoft Learning Paths and James Lee's AZ-104 course for my preparation. However, as I neared completion of the course, an opportunity/diversion presented itself.
Microsoft was running a cloud skills challenge during their Build conference, and completion of their Azure Solutions Architect learning path earned a free voucher to sit the Exam AZ-305: Designing Microsoft Azure Infrastructure Solutions exam. The AZ-305 exam is part of two exams for the Microsoft Certified: Azure Solutions Architect Expert certification, and has the same choice of prerequisites as the DevOps Engineer Expert certification. This would give me double the "bang for my buck" for passing the AZ-104 and apply it towards two different expert certifications.
AZ-305
So, you guessed it: I paused my preparation for AZ-104 to focus on AZ-305. Both the skills challenge and the free exam voucher itself were limited time offers, so it kept me hyper-focused on getting through the material and scheduling the exam. Man, the things I'll do for a free voucher!
My preparation for AZ-305 was through my A Cloud Guru subscription, with the instructor yet again James Lee. I can't recommend James enough as he is thorough, clear, and encouraging in his videos. I passed the AZ-305 exam, but did not yet earn the Azure Solutions Architect certification as I still needed to pass the AZ-104 prerequisite.
With a little confidence boost from passing the AZ-305 exam, I resumed my preparation for the AZ-104. Upon passing the exam, I earned two certifications at once! Passing AZ-104 by itself earns a Microsoft Certified: Azure Administrator Associate, and also combined with my AZ-305 earned the Microsoft Certified: Azure Solutions Architect Expert. Whew!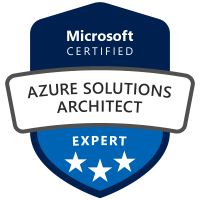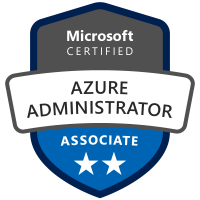 Back to AZ-400
Finally, it was time to return to the AZ-400 exam. I again used my virtual tutor James Lee to learn all about continuously integrating code with Git repos, and using pipelines to continuously deploy solutions. I felt well-prepared for the exam, but I was caught a little off-guard during the hands-on lab section. It involved more tasks than expected, and I did not allow myself enough time to complete them all. Time management is a key part of sitting an exam. Regardless, I was able to pass and earned the Microsoft Certified: DevOps Engineer Expert certification. Finally!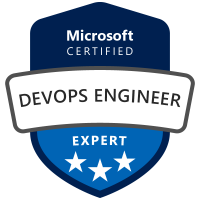 Reflection
I have jokingly said to a few people that I went a little crazy earning three Microsoft certifications this past year, but honestly, I enjoy the process. Yes, they are stressful. Yes, they require time and energy and focus. However, the exam is a measurable goal with a nice recognition upon completion. The goal gives me a direction for purposeful study, and the preparation guides me through learning new useful skills. Certifications are not a guarantee of anything, but like most things, you get out of it what you put into it.
Next Steps
What now? After some consideration that involved falconry, cryptozoology, or starting a Chris Gaines cover band, I have zeroed in on three specific goals for the next few months.
One, renew my Microsoft Certified: Power BI Data Analyst Associate certification. I will always be a data person at heart, and I still get a thrill out of building good data models, shaping data with Power Query, writing DAX measures, and seeing it all come together in reports and dashboards. The new Microsoft renewal process is easy; passing an online assessment will renew my certification for another year. I'll get to go through the renewal process a lot next year!
Two, obtain the Microsoft Certified: Azure Database Administrator Associate certification. SQL Server is like an old friend, but my friend is spending a lot of time in the cloud these days. I want to stay on top of the different Azure SQL options (serverless, elastic pools, etc.) and the exam will guide me through everything I need to know.
Three, and possibly most importantly, focus on hands-on practice building side-projects. The lab portion of the AZ-400 exam reminded me of the importance of this. Instructional learning is great but combining it with practice is the key to deep learning. I have already started my first side-project and will be blogging about the process.
Longer-term, I have some other ideas: diving deeper into modern data engineering, branching into Amazon Web Services, and develop solid Linux fundamentals.
Sharpen the saw.
11 Nov 2023
Permalink
automation