SQL Saturday #220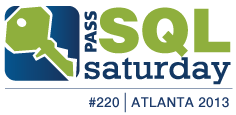 Wow, SQL Saturday #220 in Atlanta, GA has 800 registered and over 20 on the waiting list! As usual, looking over the schedule I'm going to have to make some tough choices deciding which sessions to attend. What kind of choices? I'm glad you asked! (BTW, go to the schedule page for the full list of sessions. If I could, I would attend them all.)
Schedule Strategy
9:00 am
Right out of the gate, I'm torn between three main choices:
The verdict: This may be a coin-toss. Learn a new skill with PowerShell, extend my skills with SSRS, or learn an advanced technique with dynamically created objects? Argh! Undecided!
10:15 am
Things don't get any easier in the next time slot. I've narrowed it down to three choices:
The verdict: It probably depends on how crammed Adam's room is. Apparently his session was the highest vote-getter in the session survey sent out by the event organizers. If I can't grab a seat, I'll head over to Teo or Eddie's session and later catch Adam's 2nd presentation.
1:00 pm
Right after lunch, I'll have five(!) tough choices between some big names:
The verdict: Attending Adam's session if I missed the first one, otherwise, I am undecided. It's a win, no matter the choice.
2:30 pm
Man, this time slot pits two BI languages head-to-head, both of which are relevant to me. It's a DAX vs. MDX decision!
The verdict: Sigh, man, I really want to attend both of these. MDX is more relevant to me currently, but DAX is new, and I need to learn it (and the BISM tabular model) sooner than later. I'm leaning towards the MDX presentation, but it's a tough decision.
3:45 pm
As with every hour, there are lots of good choices, but for me, this was the easiest decision.
The verdict: I have really been focusing in on MDX for the past several months, and want to continue building my knowledge. Performance tuning MDX is challenging, so I welcome the chance to learn from a respected industry veteran.
Conclusion
This year's SQL Saturday Atlanta looks to be bigger and better than ever. It's amazing how the community has grown year over year. A big thank you in advance to the event organizers, sponsors, and speakers for all your time, money, and attention. No matter what sessions I decide to attend, every choice is a win-win.
The schedule for SQL Saturday #220 has been released and as usual, I have some tough choices to make on conflicting sessions.​
08 May 2013
Permalink